Thomas Trading, Inc. specializes in minimizing loss and expediting payment for distressed goods.
So, why consider Thomas Trading?
We act with integrity — with your company's interests in mind.
We work hard to earn your trust. We are absolutely committed to protecting you — your brand, your existing clients and distributors, and your existing territories.
We take your distressed goods to the secondary market, and we ensure that those goods cannot enter the primary market.
We pay you fairly and up front — in most cases wiring the payment to you immediately.
We serve the food industry by solving food-related problems for large quantities of dry, beverage, and frozen products. Examples include:
Close-dated/short-dated/post-dated goods
Overstocks and overruns
Distressed or damaged package products
Surplus/closeout/excess inventory
Other potential product losses
We provide insurance companies and their adjusters an efficient means to resolve cargo claims quickly. We buy the at-risk goods and then expedite the sale of those products — eliminating costly storage fees.
We sell to our large network of secondary market stores, deep discount grocers, and discount wholesale distributors who purchase our products at a substantial discount. This takes your goods out of the primary (retail) markets, thus protecting you.
We are committed to ensuring that your product does not interface with your normal sales/distribution channels by maintaining records of where your goods were sold.
Consider Our Track Record
We go to great lengths to exceed the requirements of those who sell products to us in order to establish a long-term relationship with them.
The average length of relationships with our vendors is several years and includes:
A multi-year relationship with a major international juice provider
A multi-year relationship with a major national provider of breakfast foods
Numerous multi-year relationships with providers of various supermarket foods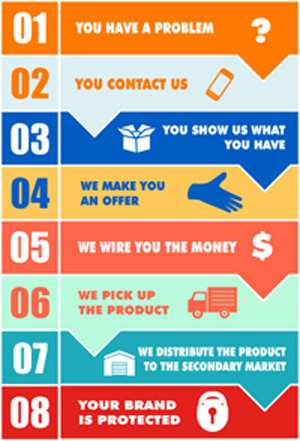 Customer Satisfaction: What we strive to reach in every deal we do
$35,000,000
IN DEALS SINCE FOUNDING
TTI has been profitable every year since our founding in 2004
We Buy From All 48 Contiguous States & from Canada
Have a question? We're here to help.